Shamanic Retreat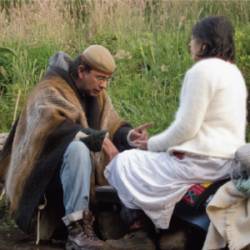 Welcome! We invite you to experience a powerful week of inner exploration and healing. We have organized a trip to Colombia for a small group of friends who wish to experience the deepest part of who they really are. We will learn directly from drinking ayahuasca medicine and participating in other shamanic traditions. This will be an intimate and profoundly deep experiential journey.
We will spend our time exploring and opening the subtle doorway through the heart energy. This is the path back to awakening your authentic self. As we work through our old, limiting patterns, we begin to heal and reclaim our lost personal power.
Since 2002 we have brought hundreds of people from 55 different countries to experience these sacred traditions. We continue to explore on our own personal journey and offer an approach that is friendly, safe and very personable. We maintain close personal communication with each participant during the entire process before, during and after the retreat.
The logistics for this trip are fairly easy. We will help organize all of your flights to Colombia. You don't need a tourist visa, any vaccinations, and we organize all of the arrangements once in Colombia.
Read about our Support Staff
Total price for the Shamanic Retreat is US$2300.00, with a $750.00 deposit required to hold your space. Places are very limited and our trips fill up quickly, so please do not delay if you intend to join us.
All accommodation is shared. All meals, snacks, juices are provided. Local transportation in Colombia to/from airport and eco retreat are included. Flights to Colombia, passport and other travel costs are not included, but we will be happy to help you book all of your travel arrangements.

SHAMANIC TRADITIONS
---
Visiting Colombia carries a very special energy unlike any other South American country we have visited. The upper Amazonian regions of the Putumayo and Valley of Sibundoy are the very birthplace of the ayahuasca tradition. It is home to shamanic traditions that are known only by the indigenous cultures who have guarded these secrets for millennia. These regions are a botanical pharmacy and contain more species of entheogenic plants than anywhere else on the planet. These are ethically the highest of shamanic traditions.
An entheogen, meaning "to evoke the divine from within", is a psychoactive substance used in a ritual or shamanic ceremony as a means to connect to higher realms of consciousness. When a person ingests an entheogenic plant they communicate with an intelligence inherent of nature herself. These 'teacher plants', or master plants as they are often called, have been used for 1000's of years by indigenous cultures as a vehicle to communicate with their ancestral origins. They help us to explore and connect back to our own true nature.
We began to work with these shamanic traditions as a way to find healing in our own lives. The experiences are strong and deeply profound. Shamanic plant medicines offer a direct way of exploring the subconscious parts of one's self. These teaching plants do not offer a shortcut, but rather a more direct no-nonsense approach to exploration and healing. People have often described their experience with ayahuasca as many years worth of reading, study and self-examination contained in a single evening.
We offer through our own experience and a decade of work a way for you to approach these ancient traditions. Our retreats are an alchemy of many traditional shamanic ceremonies, set in a beautiful location, used in a way that all work together to create a week-long experiential process. It is our hope that you be bold and step bravely into the unknown in search of higher purpose in your own life.

ECO RETREAT
---
We will have the private use of an Eco Retreat beachside property and nature reserve on the north Caribbean coast of Colombia. This region is stunning with its long private beaches and dramatic view of the Sierra Nevada de Santa Marta, the world's highest coastal mountain range.
This region is also home to the Kogi Indians, descendants of the ancient Tairona civilizations. Because of their retreat into the high mountains, the Kogi are the last and only tribe in south America that remain fully functioning as they were before the Spanish conquistadors arrived.
The property has 10 little houses with palm leaf roofs overlooking the Caribbean sea, each with private bathroom and terrace with hammocks. There is no electricity in the rooms and everything is lit by candlelight at night.
The surrounding area is tropical dry forest and various rivers that run off of the surrounding mountains. There are trails for hiking and daytime excursions we will take to explore the natural beauty of these untouched lands.
We will enjoy swimming in the ocean and the warmth of the Caribbean sun as strong healing elements during our stay. This location is a perfect place to rest, recharge and reflect as we explore the ancient shamanic traditions.

SPECIAL GUESTS
---
There are several close friends of ours that we would like to introduce to you. They are long time supporters of our work and will be special guests for select 2013 retreats.

David Coral (Nuh Jay)

David Coral, known as Nuh Jay, is a Colombian musician, artist, medicine maker and new found friend of ours. David (pronounced Dah-veed) and his partner Tania will be with us as guest musicians during some of our upcoming 2013 retreats. Experience the power of music and dance movement with their healing performances during the medicine ceremonies.
David and Tania's music and beautiful lyrics are a form of devotion to the divine. They sing in French, Portuguese, Spanish, English, Sanskrit (mantras) and Arabic as a way to honor all traditions and cultures. They host Dances of Universal Peace as part of their teaching of Sacred Dance. Since the late 1960's, the Dances of Universal Peace have spread throughout the world, touching more than a half million people all over the world.
Listen to the power and beauty behind these songs of devotion