Shamanic Retreat - Support Staff


SUPPORT STAFF
---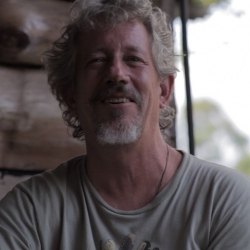 Ralph Miller
Ralph has spent most of his life passionately pursuing a quest for spiritual understanding. He has been compelled to learn and understand everything first-hand and by personal experience. He has traveled over 1-million miles to over 58 countries and had personal interactions with a wide variety of diverse cultures, religions and people from all over the world.
In September 2000 Ralph began a project he called Heart of the Initiate as a path to help people approach their authentic heart through the use of ancient shamanic traditions. Over the last 12 years, Heart of the Initiate has run 94 experiential shamanic workshops. Ralph has worked with over 1,600 people from 55 different countries around the world. He is dedicated to his own path of self-mastery and healing, and shares a powerful sense of compassion for the brotherhood of humanity.
In 2010, Ralph began an organic produce delivery business in his small mountain community in Arizona. He converted his home into a retreat center to promote healing through a diet rich in raw plant based foods. His most recent project, Art of Transformations, is a human alchemy process to teach people how to live in a sacred way.
Ralph is a prolific writer and lecturer on the evolution of human consciousness. He has now published 34 articles on various websites, some translated into 3 languages. His writing authentically communicates to the reader in a way that invites people to approach their own authentic source. He is a connector of people, a kind soul, and has a deep compassion to help others. Ralph's body of experience communicating and carrying people through this intensive healing process is unsurpassed. He is a true visionary.
"If you look at the vast relationships between differing aspects of our consciousness you quickly realize that there are a multitude of characteristics unique unto themselves. Each have divergent relationships with the other components of our awareness. In this way, consciousness can be likened to a crystal."
From the article Pushing Up The Sky by Ralph Miller
Warinei has been a good friend, teacher and shaman to us since our initial meeting in Colombia in 2004. Not only does he carry a strict diligence and dedication to these shamanic traditions, he brings his huge heart energy to this work. This is indeed a rare combination and shines through during his ceremonies.
Warinei started his teachings with ayahuasca in 1996 with an invitation from a friend that would lead him to shaman Luis Florez of the Inga community of Colombia. Visiting him at his maloca in the Putumayo Amazonian region he received his instruction for six years while they cooked ayahuasca medicine together.
In 2003 he met shaman Jose Antonio Kasulú, a Sikuani medicine man of the yopo tradition, another sacred healing plant medicine. It was during his visits to the Sikuani community, in the eastern Orinoquía region of Colombia, that he would learn the ways of this healing ceremony. During a yopo ceremony, Don Antonio gave him the sacred name of Warinei Wanare, meaning "star from which come forth the warm and cold crystals with which it is possible to make healings".
Additionally, Warinei spent 5 years working with the medicine plants of the maloca Nabi Nunhue, meaning House of the Jaguar, where he was consecrated as a shaman ayahuasquero. Warinei has received teachings of the native American Lakota tradition of the inipi (sweatlodge) from a descendant of the Crazy Horse and Woptura lineage.
Warinei and his assistants Sara Ñusta, Catalina, and Andres have shared their traditional ayahuasca and yopo ceremonies with people from all over the world, from all walks of life.
Warinei has offered these ceremonies in strict accordance with the oldest and most sacred traditions of indigenous shamanism. He continues to bring forth his ceremony as a way to help people find their own shamanic path and create their own inner healing. During our week together Warinei will lead two ceremonies with ayahuasca and one with yopo.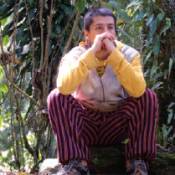 Andres Jaramillo
Andres is a musician and assistant to Warinei during the shamanic ceremonies. He has been on the medicine path for many years, learning diligently, and is well on his way towards leading his own ceremonies. He plays music tirelessly throughout the night. Most beautiful is his didgeridoo playing bringing intense rhythm and vibration into the visionary experience. During the ayahuasca and yopo ceremonies he carries a strong presence which helps others through their healing processes. You will often see him in the background like a monk working silently and humbly to anchor the work at the retreats. If you find yourself needing help you will quite often find him right by your side.